Hobakjuk (Pumpkin Porridge with Rice Dumplings)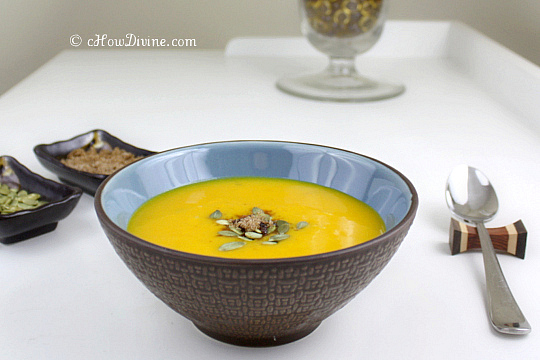 I have a habit I need to break.
I buy way too much of foods that I love – unreasonably too much. I love kabocha pumpkins. And the last time I went to Whole Foods, organic kabochas were on sale. I can't pass that up right? So I bought the biggest kabocha they had in stock and a smaller one – 12+ pounds in total. When I bought them I felt so good that I whistled all they way home despite the pain in my shoulder from lugging the heavy load. Not too much, I figured. It's just the two of us, but half of it will be seeds that I will discard right?
I steamed the kabochas. They were unbelievably good. I love the sweetness and the drier texture of a kabocha. It's like eating chestnuts. Believe it or not, we finished close to half of it on the first sitting. But what to do with the leftovers…
So many possibilities, but I decided to make hobakjuk, pumpkin porridge. It is a simple and delicious porridge with chewy homemade rice dumplings/cakes in it. Besides, what's more Fall than a hearty pumpkin soup or porridge?
If you have any cooked pumpkins or sweet squashes left over from a meal (hopefully not as much as I did), this is an easy way to make good and tasty use of them!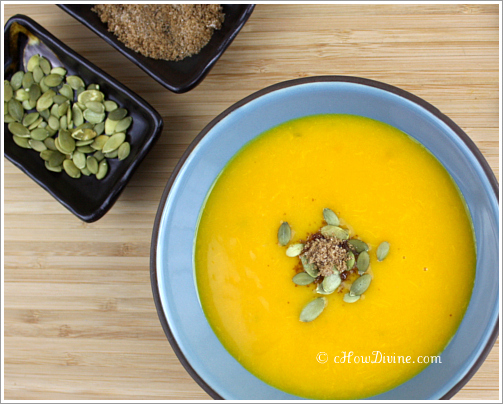 I'll be spending the next few weeks with my family. We haven't had a gathering in over a year. I'm so looking forward to seeing my nieces, nephews, mom, et al. I hope you too are keeping warm, eating good food, and are surrounded by loved ones.

Hobakjuk (Pumpkin Porridge with Rice Dumplings) Recipe
Makes 4 servings as an appetizer
Ingredients
1 1/4 lb. kabocha pumpkin (weight measured without seeds and peeled)
1/3 cup sweet rice flour or glutinous rice flour
4 cups + 1 cup filtered water
1/2 tsp salt
1 TB brown sugar
20-25 (1/2-inch) rice dumplings (recipe follows immediately)
toasted pumpkin seeds: optional
salt to taste
Place kabocha pieces on a steamer. Steam for 20 minutes. Let it cool. Add the steamed kabocha to a blender. Add 2 cups of water to the blender. Secure the lid and process until it is puréed. Pour the purée into a pot. Add 2 more cups of water to the blender and swirl to get the last bits of kabocha stuck to the container. Pour the contents into the same pot.
Place the pot over high heat and bring it to a boil. Stir. Lower the heat to medium once the pumpkin mixture comes to a boil.
In a small bowl, stir together 1/3 cup sweet rice flour with 1 cup of water. Stir in the flour+water mixture into the pot of pumpkin mixture. STIR well to prevent lumps from forming. The contents should thicken up right away. Bring it to a boil. Once it comes to a boil, lower the heat and let it simmer for 10 minutes. Stir to make sure nothing is sticking to the bottom. Add water if it gets too thick.
Stir in brown sugar and salt. Add the rice balls to the pot, let it cook for about 5 minutes on low boil. Don't overcook; the rice balls will become mushy. Rice balls should be cooked through and chewy (kind of like mochi).
Remove from heat and serve. Salt to taste. Taste test first before adding additional salt. Pumpkin seeds and additional brown sugar can be added if desired.

Rice Dumplings Recipe
1/2 cup sweet rice flour (glutinous rice flour)
3 TB warm water + more if necessary
1/4 tsp salt

Combine rice flour, water, and salt. Knead until you achieve a dough with the consistency of soft play-doh.
Form dough into 1/2-inch balls. The dough should yield about 20-25 balls.

You Might Also Like: