Gluten-Free Pear "Fritters"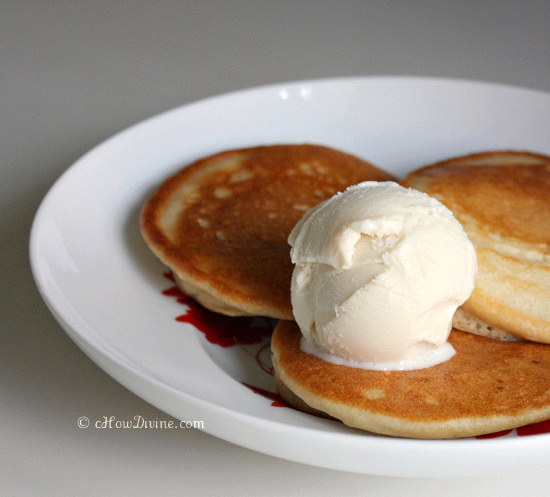 Hmm… It may be more accurate to refer to them as pancakes. I loved the batter so much that I used a little more than a fritter would require. Additionally, I didn't technically fry it; I "pan-fried" it with a little bit of oil. But I love the sound of the word "fritter." Naming conundrum aside, I love the crispiness of the edges and the softness of the filling.
I made this for my little brother when our families got together for Thanksgiving a couple of years ago. I wasn't too happy with the results, because my mom's electric stove top made it impossible for me to control the temperature; I don't care that it can boil water in 60 seconds, I like my gas stove top. But my little brother loved it. He thought it was ridiculous I wasn't happy with it. And he gobbled it up topped with ice cream. Looking at him, he was still my chubby-cheeked little brother who was eagerly satisfying his sweet tooth. But there was a marked difference; he had a little chubby-cheeked toddler of his own sitting on his lap satisfying her own sweet tooth. When I look at her face, I see my little brother in her eyes and her smile. And it makes my heart full.
It was my brother's birthday last week. So I made the pear fritters he loved so much. Admittedly, he is no longer little. In fact, he is much bigger than me in physical stature. And emotionally? He is much more mature than me in many ways. But more importantly, he has given me a smart and kind sister-in-law, and two beautiful kids who call me their gomo.
Happy Birthday.
Gluten-Free Pear Fritters Recipe
Makes 10-12 small fritter/pancakes
Ingredients
1 cup brown rice flour*
2 TB tapioca flour/starch
1/2 teaspoon salt
2 teaspoon baking powder
2 teaspoon palm sugar** or granulated sugar
1 egg lightly beaten
3 tablespoon applesauce
1 teaspoon vanilla
3/4 cup almond or soy milk
2 softened bartlett pears – cored, peeled, and sliced into rings
vanilla soy ice cream or
dairy-free butter (e.g. earth balance) and maple syrup
In a large bowl, mix together brown rice flour, tapioca flour/starch, salt, baking powder, sugar using a whisk. In a smaller bowl whisk together egg, applesauce, vanilla, and milk.
Add the wet ingredients to the dry ingredients and mix until combined. Add the pear rings to the batter and mix very gently. (It's easier to add a few rings at a time.)

Heat a nonstick pan over medium heat. Add about 1 TB of canola oil to the pan. Ladle a pear ring along with approximately 3-4 TB of batter into the pan per fritter – 3 or 4 fritter per pan at a time. Cook for about 3 minutes until golden brown, especially along the edges. Flip and cook on the other side until golden brown. Make sure the heat is not to high. You want to ensure that the "filling" heats through without burning the outside. Wipe the pan clean with a paper towel and repeat with the remaining batter.
Serve immediately with some ice cream on top if enjoying as a snack. Alternatively, serve with dairy-free butter of your choice and maple syrup if enjoying as breakfast.
* I use Bob's Red Mill Brown Rice Flour. It's not gritty in texture like some of the other brown rice flour out there.
** I used it for this recipe. According to the packaging, it has a lower glycemic index than regular sugar. Tastes slightly like brown sugar or cooked/melted granulated sugar.