Bangers and Mash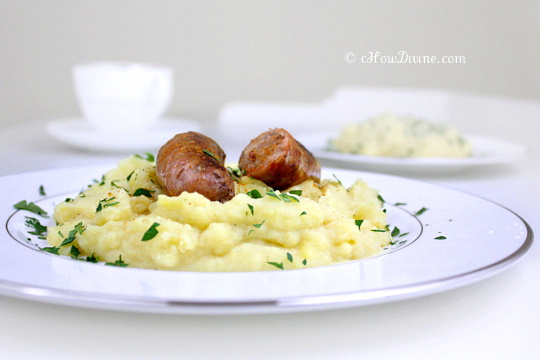 My husband always talks fondly of his time abroad in London during his college years. He studied for a year at the London School of Economics. And while there, he played "varsity" college ball for a season. I feel bad for putting quotes on varsity. But I don't think college basketball was all that popular over a decade ago in London. And he played in a team with "bookish, basketball misfits." Even he (reluctantly) admits to that. I guess they were the Bad News Bears of the European college league – without the miraculous come-from-behind win at the end. But no matter; he is a huge sports fan, and that's his claim to fame.
According to him, he was "en fuego" during tryouts. I'm told "en fuego" is a sports reference made famous by an ESPN analyst, which describes a great play or a player. Anyhow. He says the basket felt like the size of an ocean that he couldn't miss, and he had eyes in the back of his head. But he does admit that once the season started, the basket felt like a thimble that he could barely get a gumball through. Win or lose, starter or pine rider, he talks about the time with great nostalgia.
So I decided to make him some bangers and mash – a British pub mainstay. I'm sure he had his share of the dish during his pub crawls in London. I hope it brings back some nice memories. And I'm doubly sure that he will talk about his "college ball" days (with some irony and sense of humor, of course); And I will listen to it like it's the first time I'm hearing it. I'm a loving wife that way. 😉

7/11/2012: cHow Divine's Bangers and Mash will be featured on MyCityCuisine.org!
BANGERS AND MASH RECIPE
Inspired by Ina Garten and My Husband's Stories
Makes 4 servings
Ingredients
8 large fresh sausages (pork, beef, or chicken)
2 – 2 1/2 lbs small Yukon Gold potatoes
2 TB unsalted butter, diced
1/2 cup almond milk
2 tsp Dijon mustard
1 tsp German mustard
1 tsp sea salt
1 tsp freshly ground black pepper
fresh parsley, chopped for garnish
cayenne pepper: optional
Preheat the oven to 425 degrees F.
Peel the potatoes. Add potatoes into a large pot with enough water to cover the potatoes. Bring the contents to a boil on high heat. Lower the heat and allow the contents to simmer for about 25 minutes until the potatoes become very tender. Once they become tender, drain the potatoes. Return them to the pot and add butter, almond milk, Dijon mustard, German mustard, salt, and pepper. Blend the potatoes with a handheld mixer on LOW setting until just mixed through and creamy.
While the potatoes are cooking, place a sheet of parchment paper on a baking sheet. Place the sausages in one layer on the prepared baking sheet. Bake for about 15 minutes, until the sausages are almost cooked through. Finish cooking on a pan over moderate heat to achieve a crisp golden skin on the sausage.
Place a scoop (or two) of potatoes on a plate and top with sausages. Sprinkle with parsley and/or cayenne pepper. Serve while still hot.