Korean Soy-Marinated Chicken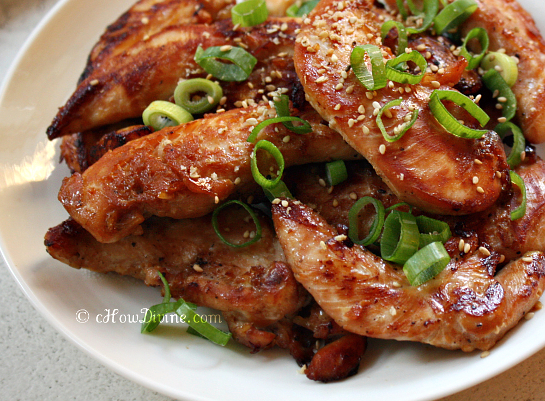 This is one of my favorite ways to prepare boneless, skinless chicken breasts. They're moist, tender, and, more importantly, so flavorful. If you are familiar with Korean cuisine, the chicken breasts are marinated in a bulgogi-like marinade. It has the right amount of salty and sweet to make it the perfect accompaniment to plain steamed rice.
Some people may believe that they need to resign themselves to dry and/or tough boneless chicken breasts. They are healthy, in part, due to their low fat content, but this also causes them to be dry and tough if not cooked correctly. So by marinating the chicken breasts in a soy sauce-based marinade, you are effectively soaking them in a brine solution; this makes the chicken breasts juicy. Now I really want to break into a discussion about osmosis and osmotic pressure – some of the science behind why brining works the way it does. But I will suppress the urge, lest I bore you to death and give myself away as a giant science geek.
Believe me though, this dish is extremely juicy and flavorful.
Korean-Style, Soy-Marinated Chicken
Makes 4 servings
Ingredients
1 – 1 1/4 lb chicken breast tenders (or boneless, skinless chicken breasts pounded into thin pieces)
2 cloves garlic, minced
1 tablespoon agave or honey
2 teaspoon sugar
1/4 cup tamari (gluten-free soy sauce)
1 tablespoon mirin
1 tablespoon toasted sesame oil
1 scallion: optional for garnish
toasted sesame seeds: optional for garnish
Note: If you are using boneless, skinless chicken breasts, make sure that they are pounded into thin pieces – or at the very least, cut into thin pieces. Additionally, if you are watching your sodium intake, use low-sodium soy sauce (I use a mix of regular and low-sodium for this recipe); alternatively, you can use 3 TBs of regular soy sauce and 1 TB of low-sodium chicken broth.
Combine minced garlic, agave, sugar, tamari, mirin, and sesame oil in a small bowl. Mix well until the sugar and agave/honey are dissolved.
Place the chicken in a large non-corrosive mixing bowl. Add the marinade from step 1. (Alternatively, marinate in a thick ziploc bag for an easy cleanup.) Mix well.

Cover and marinate for at least 30 minutes in the refrigerator, but no longer than an hour.
Preheat a pan on medium heat. Once the pan has been heated, add oil. Swirl to cover the bottom of pan.
Pour the chicken AND the marinade into the pan. The marinade should start boiling right away. Make sure the pan is on medium heat, and not on high. High heat will burn the marinade. Cook for 3-5 minutes on one side and turn to finish cooking. (Chicken tenders are thin and should cook very quickly. But make sure the internal temperature of the chicken reaches 165°).
Cook until the marinade reduces to a thin syrupy consistency and glazes the chicken. Garnish with thinly sliced scallions and toasted sesame seeds if desired.

Serve with warm rice and some tossed greens.

You Might Also Like: