Ssamjang (Gochujang-Doenjang Sauce for Wraps)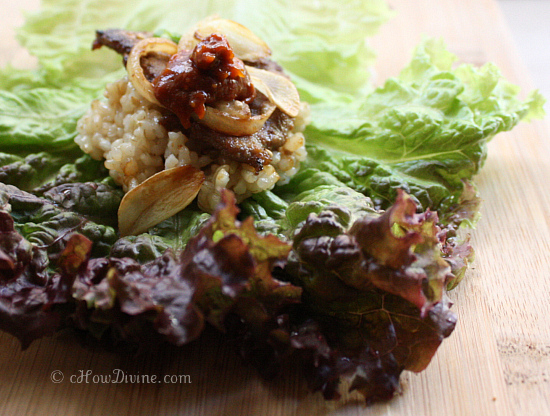 Ssamjang directly translates to wrap sauce or wrap paste in Korean – "ssam" means wrap and "jang" means sauce or paste. Just as the name suggests, it's a condiment commonly used when assembling Korean wraps. It is usually made with gochujang (Korean chili pepper paste) and doenjang (Korean soybean paste) as its base. But there are no rules when it comes to ssamjang. You can add anything to your heart's desire. I've seen it made with lots of garlic, cooked minced meat, chopped sautéed mushrooms, crushed tofu, and so on. You can go wild. Really.
I had some marinated bulgogi in the refrigerator. And I was really craving some ssam (Korean lettuce wrap). I could have had it with gochujang sauce, but I wanted something different – a new treat for my palate. I decided to make some ssamjang.
I love garlic, roasted or sautéed/grilled garlic in particular. So I decided to make the ssamjang with some sesame oil-sautéed minced garlic. And I upped the garlic quotient by sautéing some sliced garlic for additional topping for my ssam. The result? Sublime…
Ssamjang Recipe
Ingredients
2 tbs doenjang or dark (or red) Japanese Miso
2 tbs gochujang
1 tsp garlic, minced
1 tsp toasted sesame seeds
2 tsp toasted sesame oil
½ tsp jalapeno pepper, minced: optional
1-2 TBs water: optional
Add 1 tsp of toasted sesame oil and minced garlic into a small saucepan. Heat the saucepan over low-medium heat. Let it sizzle for a minute. Once the garlic becomes fragrant, add gochujang. Sauté mixture for 2-3 minutes. The gochujang should be bubbling (not burning!). Remove from heat.
While the saucepan is still hot, add doenjang (or miso) and stir. Once it is well incorporated, add toasted sesame seeds and 1 tsp of the toasted sesame oil. Stir. Add water to thin out the sauce if desired. Add minced jalapeno pepper on top if using. (Those who want the extra spiciness can add jalapenos. And those who don't, can leave it.)

Serve with steamed rice, grilled meat or vegetables, and red leaf lettuce or sesame leaves. You can also serve with crudités as a dipping sauce.
Ssam Recipe
Ingredients
red leaf lettuce leaves
steamed brown or white rice
bulgogi
garlic cloves, sliced lengthwise
baechu (cabbage) kimchi
ssamjang
Cook bulgogi according to recipe.
Coat the bottom of a pan with canola or other cooking oil. Add sliced garlic to the pan. Heat the pan on medium heat. Once the garlic slices turn golden brown on the bottom-side, turn with tongs or chopsticks to finish cooking on the other side. (Once the pan heats up, it should take about a minute.) Remove from heat.
Assemble the ssam by first adding a spoonful of steamed rice to the lettuce. Add bulgogi, slice of grilled garlic, piece of kimchi, and a dollop of ssamjang to the rice.

"Wrap" by pulling up on the edges, in the shape of a drawstring purse. Put the whole ssam in your mouth! That's the way the Koreans do it. Enjoy!