Miyeok Juk – Korean Sea Vegetable Porridge
Why not serve something unconventional for Mother's Day? Something with significance and meaning, albeit from another culture?
Miyeok (sea vegetables or seaweed) is a food/ingredient that evokes mothers or motherhood in Korea. In Korea, most postpartum women – maybe almost all – eat miyeok guk (seaweed soup). In fact, hospitals serve miyeok guk to postpartum women to replenish nutrients that may have been depleted during childbirth; and they continue to consume the soup during lactation due to its properties that are believed to stimulate lactation. So it's apropos that it is traditionally served on birthdays as symbolism for the first food consumed after birth. Thus, it is also a food that connects the mother and child.
I would like to say that my relationship with my mother didn't have it's share of bumps in the road. But that just wouldn't be true. As I'm sure with all mother-daughter relationships, ours had its ebbs and flows; unless you skipped your teenage years, I would say it's almost inevitable. So I commend all mothers out there for tolerating and loving us through those prickly years. But I gather it's only life coming full circle, as our mothers were once teenagers themselves.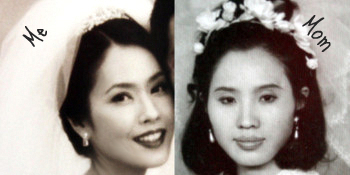 The relationship between me and my mother somehow survived my teenage years. The skirts too short. Mouth too sassy. Curfews not kept. Advice never heeded. But my mom loved me through it all. And ours has evolved into more than a mother-daughter relationship, a friendship of sorts, although it's more complex than that. I relate to her as a peer, a woman, a daughter, and a wife. But of course, I still need my "mommy" at times. And I always will.
It saddens me that I can't spend Mother's Days with my mom. But I'm heartened that my brother and his family will be there to celebrate the day with her.
So on Mother's Day, I will make a dish that reminds me of my mom and comforts me; I will make Miyeok Juk – Korean Sea Vegetable Porridge. I'm using Miyeok for all of the reasons already stated. And Juk (porridge), well, it's just so comforting; my mom and grandmother used to make it for me often when I wasn't feeling well.
Admittedly, this isn't a traditional Korean dish. I made it one day with a mismatch of ingredients I had on hand in my nearly empty refrigerator. But it turned out so yummy and comforting, I had to make it again … and again.
Miyeok Juk – Korean Sea Vegetable Porridge Recipe
Makes 3-4 servings
Ingredients
3 1/2 – 4 cups anchovy-dashima stock*
1 large garlic clove, minced
6 TB of dried wakame or miyeok*
1/2 package tofu, cut into small cubes (optional)
3 cups cooked rice
1 or 2 eggs, lightly beaten
1 1/2 – 2 TB tamari (gluten-free soy sauce)
toasted sesame oil
salt to taste
green onions, cut into thin rings (optional garnish)
toasted sesame seeds
*I know. Anchovy-dashima stock probably isn't an ingredient people have on hand. But I almost always have some in the fridge. It's probably the easiest and the quickest broth you can make at home. It is GREAT for just about any Asian dish that calls for broth. Try it at least once.
Wakame or Miyeok – a type of sea vegetable – is readily available at natural food stores (e.g. Whole Foods) or Asian grocers.
Soak dried wakame in water for 5 minutes. (If you are using miyeok, it may need to be soaked longer depending on the type.) Be sure to put it in a large bowl. When the dried wakame rehydrates, it will greatly increase in volume. Once it is rehydrated, drain well.

Add toasted sesame seed oil (<1TB) and minced garlic to a clean pot. Heat the pot on medium heat. Wait for the oil and garlic to start sizzling and bubbling. Add drained seaweed. Stir. Let it sizzle for a minute while stirring.
Add anchovy-dashima stock. Turn the heat to high. Let it come to a boil. Add the cooked rice. Once it comes to a boil again, turn the heat down to low. Stir occasionally to prevent rice from sticking to the bottom of the pot. Stir in cubed tofu about 8-10 minutes into boiling. Just let it boil until the broth appears milky; this shouldn't take long – about 15 minutes (total boiling time). Don't overcook. Add soy sauce and gently stir, being careful not to break the tofu.
Add a pinch of salt and some black pepper to the lightly beaten egg. Slowly drizzle in the beaten egg into the pot, while stirring the pot slowly in a circular motion. Remove from heat. Let the egg set. If necessary, add salt to taste.
Serve hot. Divide into bowls. Give each bowl a short drizzle (or a few drops) of toasted sesame oil. Garnish with sliced green onions and toasted sesame seeds if desired.