Korean-Style Miso Noodle Soup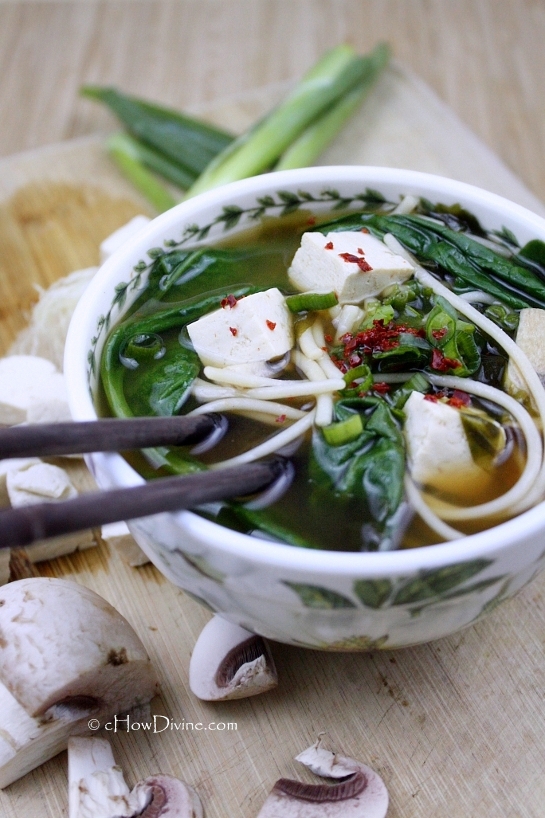 I was totally out of commission for over a week due to a terrible cold. I've been going nonstop since my California vacation in June. And getting eight hours of sleep was nothing but a feint memory. I was doing relatively OK, albeit a little tired, until a couple of weeks ago. Then… ugh. It's funny how you are forced to find the time to rest once your body feels like it's been hit by a mac truck.
Anyway. All I craved throughout this ordeal was hot soup – Korean soup to be specific. I didn't have all of the ingredients. So I made do with what I had. Luckily, anchovy-dashima stock (common Korean soup base) is super easy and quick to make. And I had some miso on hand. So I decided to make some adjustments to the Korean soup I had in mind and made some Korean-style miso noodle soup instead. It was exactly what I needed, so much so that I made it three times during the week.
I'm sure some of you have never heard of anchovy-dashima stock. But if you love Korean food, you've probably tasted it. It's the base of many Korean soups, including noodle soups. Unlike other types of stocks, it's pretty quick to make. And you can make a big batch and store it in the fridge for about a week or freeze it for much longer. Anchovies and dashima are readily available in Korean markets. You can also purchase them on Amazon. Of course, you can always use prepared chicken or veggie stock. It will still taste good, but nothing beats the real thing. For more info on these ingredients, see Cook's Note below.
Additionally, red miso or brown rice miso should be used for this soup. They (darker miso generally) are closer in taste to the Korean soybean paste (doenjang or dwenjang). The lighter miso will not yield the same results.
You can still make this soup even if you don't have every item on the ingredient list. Just make sure you have an onion and garlic cloves for the stock, and miso for the soup base. Other than that, read the Cook's Note for substitution suggestions. Enjoy!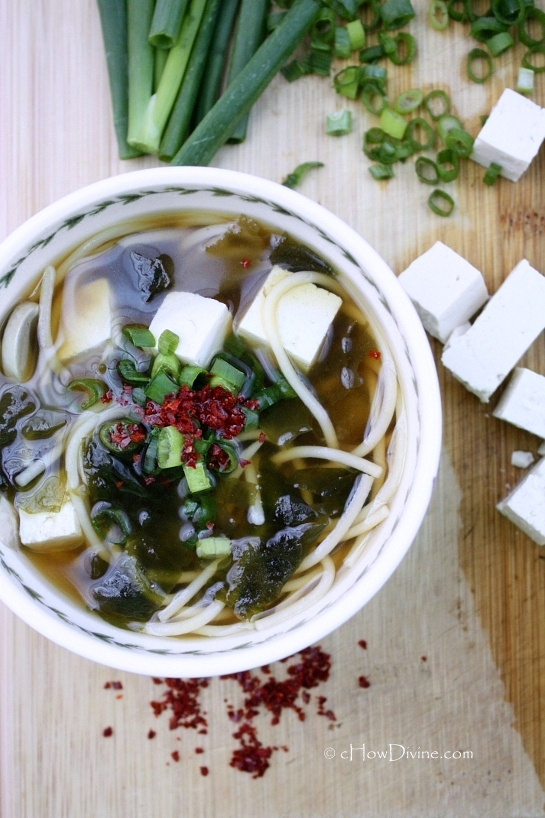 Korean-Style Miso Noodle Soup
Serves 2 people as a main dish
Ingredients
1/4 onion
3-4 garlic cloves
6-7 large dried anchovies
1″ x 4″ piece kombu or dashima (=kelp)
6 oz gluten-free rice noodles (udon, somen, or soba acceptable)
2 TB dried wakame or miyeok (=seaweed)
7-8 oz. tofu, cubed
3-4 button mushrooms, sliced thinly
handful spinach
~ 3 TB red or brown rice miso
~ 4 cups water
Soak the dried wakame in cold water for about 10 minutes. Drain. Set aside. Prepare the noodles according to package directions, but undercook it by about a minute. Drain. Set aside.
Add kombu/dashima, onion, garlic, and water to a pot. Bring to boil on high heat. Once it comes to a boil, add dried anchovies. Lower the heat to medium-low and continue boiling. Leave the pot UNCOVERED AFTER the dried anchovies are added. Boil for another 10-15 minutes. Discard onion, garlic, kombu/dashima and anchovies using a slotted spoon.
Add the rehydrated wakame/miyeok, mushrooms, and tofu to the pot. Bring back to boil and continue boiling for another 3-5 minutes. Then add the noodles and spinach. Once the noodles are heated through and the spinach has just wilted, remove from heat.
Dissolve miso in a small amount of broth. You can do this in a ladle or in a small bowl. Once dissolved, pour it back into the pot and stir the pot gently to ensure that the miso is evenly distributed. Serve hot with some chopped scallion and gochugaru if desired.
Cooke's Note*
If you don't have dashima or dried anchovies, you can add about 3-5 squirts of fish sauce when the wakame/miyeok and tofu are added to the soup.
If you want to keep this vegan, use a couple of dried shiitake mushrooms in place of dried anchovies. Just rinse them first to remove any debris.
I topped my soup with gochugaru (Korean red chili pepper flakes/powder). The spiciness of gochugaru in hot soup is believed to clear up the sinuses.
If you don't have wakame or miyeok, just omit it and add a little more noodles. If you are using wakame or miyeok, keep in mind that the longer you boil, the milkier and brinier the broth will become.
If you are not familiar with anchovy-dashima stock, please refer to below for the images of ingredients. Anchovies used for this stock are about the size of a pinky or ring-finger depending on the size of your hand. And you can buy the anchovy-dashima ingredients in a convenient package at Korean grocery stores. It's just a big tea bag containing anchovies and dashima (kelp). Just ask for "dashi pack."