Vegetable Japchae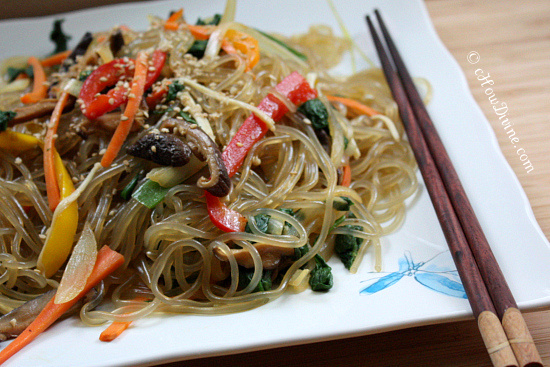 Is it wrong to treat your husband like a 5-year-old?
My husband doesn't like to try new things. He says he doesn't like something if he has never tried it or heard of it. Does it sound familiar moms and dads? It's kind of like watching a toddler look at new food, smell it, put it in his mouth, take it out again, and frown.
I love japchae. I grew up with it. It was always made for birthdays because it symbolizes long life and prosperity. And it is absolutely delicious. My husband hates it. He didn't grow up with it. His mother never made it. Now, he thinks it looks slimy and slippery. And he thinks it will make him queasy. Really?! How old are you?!
I hear that a toddler must try a new food about 8-15 times before the toddler knows if he likes it or not. I think I'm going to test that theory on my husband. Today, I made japchae for the first time since we got married. I am determined he will try it. And I will keep making it. After about 8 times – if he still hates it – I will let him be… (Update: My husband LOVED it.)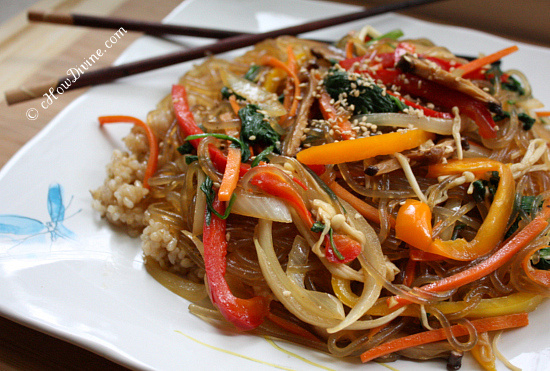 Japchae is usually made with sweet potato noodles. And if you've had it in a restaurant, it comes stir-fried on top of rice. But there is a bit of irony to the name "japchae" as it literally means mixture ("jap") of vegetables ("chae"); and in its original form, japchae didn't include noodles at all. I've had some varieties without noodles. But in my opinion, they don't come close in taste to the noodle variety.
I was fortunate enough to have attended the Sting concert in NYC last Saturday. It was his "birthday party," and he sang most of his songs with a notable guest. All of the performances were great. But to my surprise, one of my favorite performances was Bruce Springsteen's rendition of "Fields of Gold." I've never been a fan of his, but he sounded and looked amazing! And Rufus Wainwright's voice was hauntingly beautiful as he sang "Wrapped Around Your Finger"; it's difficult not to have a visceral reaction to a voice like that. As for Sting? He sounded great and looked even hotter. I admit, I'm crushing on him a little. I guess that's what the new sixty looks like – with healthy living AND limitless resources. Limitless resources notwithstanding, these seemingly ageless people reinvigorated my pursuit of healthier living.
Tonight, my husband and I will toast to (belated) Sting's 60th and enjoy our japchae. Japchae is a Korean birthday staple after all.
Japchae Recipe(s)
Yields 4 servings if served over rice
Yields 2 servings if served without rice
Ingredients
6 ounces dangmyun (sweet potato noodles)
6 oz spinach, rinsed and trimmed
2 cloves garlic, minced
1/4 large onion, sliced
1 carrot, cut into matchsticks
1/4 – 1/2 cup red, yellow, or orange bell pepper, sliced thinly
5-7 shiitake mushrooms (caps only, discard stalk), rehydrated and sliced thinly
3 green onions (green parts only), cut into 1-inch pieces
3 oz enoki mushrooms, cleaned and trimmed: optional
1 TB + 1 tsp toasted sesame oil
3 TB + 1 tsp tamari (gluten-free soy sauce)
1 TB + 1tsp agave or 1 1/4 TB + 1 tsp sugar
salt
canola oil
Toasted sesame seeds for garnish
Note: Dried shiitake mushrooms can be quickly rehydrated by soaking them in hot water for about 30 minutes.
Bring water to boil. Blanch spinach. Rinse with cold water and drain well. Squeeze out excess water using your hands. Add 1/2 of garlic and pinch of salt. Mix well. Set aside.
Transfer sweet potato noodles to a bowl of hot water (I use the same pot of water that I used to blanch the spinach with. After removing the spinach with a strainer or a slotted spoon, immediately transfer the noodles to the pot while the water is still piping hot. As always, less work the better). Let it sit for 15 minutes.
Meanwhile, heat a pan over medium-high heat. Add canola oil to coat the pan. Add thinly-sliced onions and stir-fry until onions are just translucent. Add pinch of salt. Set aside. Repeat the process with sliced carrots; but stir-fry for 2-3 minutes, just until the carrots start to soften. Add a pinch of salt and set aside. Repeat the process with sliced bell peppers; but stir-fry for only 1-2 minutes. You want the bell peppers to maintain their color and crispness.* Add pinch of salt and set aside. <Tip: If you don't hear a loud sizzle when you are stir-frying, the heat is not high enough. You will steam the vegetables, and end up with mushy vegetables. So make sure that your pan is hot.>
Heat a pan over high heat. Add canola oil to coat the pan. Add the sliced shiitake mushrooms and 1/2 of minced garlic. Stir-fry until the mushrooms lightly brown. Add green onions. Add 1 tsp of soy sauce and 1 tsp of agave. Stir-fry for a few more seconds until the liquid (soy sauce) is absorbed and the green onions just start to lose shape.

After 15 minutes of soaking, the noodles should look translucent and have fairly high tensile strength (for noodles, that is). Rinse with cold water. Drain well.
Heat a non-stick pan or a wok over medium heat. Add canola oil to the pan. Add noodles to the pan and stir to coat with oil. Stir-fry for about a minute; you want the noodles to maintain some chewy texture. Add reserved vegetables, and mix well. Add 3 TB soy sauce, 1 TB agave, and 1TB toasted sesame oil. Give it a stir. If you are using enoki mushrooms, add them at the very end and mix. Once the ingredients are just heated through, remove from heat.

Garnish with sesame seeds and serve immediately over steamed rice.
Option 2: Recipe with Non-Stir-Fried Noodles


You can also enjoy the dish without stir-frying the noodles. This version is usually served as a side dish or a light appetizer at room temperature.
Cook sweet potato noodles according to directions on the package. This usually involves cooking the noodles in boiling water for about 5 minutes. Don't overcook. The noodles should be slightly chewy – not mushy. Rinse with cold water. Drain well.
Blanch/season spinach and stir-fry/season other vegetables according to the directions above.
In a large bowl mix together the drained noodles, vegetables from step 2, and seasoning ingredients (3 TB tamari, 1 TB agave, and 1 TB toasted sesame oil). Mix well using your (food-grade gloved) hands. Add in enoki mushrooms and mix gently.
Garnish with toasted sesame seeds and serve immediately.
*Technically, you can stir-fry all of the veggies at once: add onions, stir-fry for a minute; add in carrots, stir-fry for another minute; finally, put in bell peppers and stir-fry for another minute or two. But it will be more difficult to get the temperature of the pan and the texture of the vegetables just right.