Cashew Chicken with Thai Chili Plum Sauce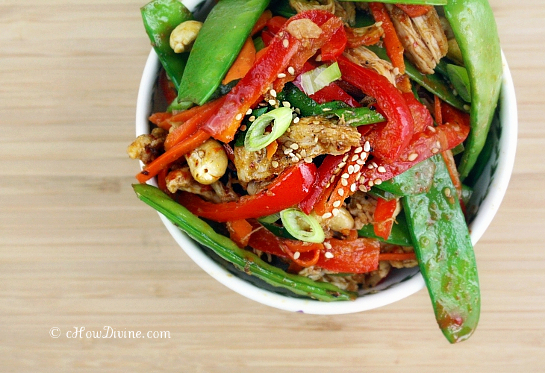 I was reading The Tourist by Olen Steinhauer a few months ago. The book is about an elite spy who is betrayed by his government. I guess after the success of the "Bourne" books, this is the plot du jour of the genre. Apparently, connoisseurs of the genre fancy him to be the next John le Carré. (He is the author of Tinker, Tailor, Soldier, Spy.) Admittedly, I'm not a huge fan of the genre. And the plot of the book seems overdone. But it was a page-turner.
I may not be a huge fan of the genre, but I am a huge fan of food. So imagine my delight when I saw a reference to my go-to Thai place, Land Thai. (A character in the book grabs takeout from Land Thai.) My husband and I used to go Land Thai at least once every couple of weeks. But for some reason, we haven't been to the restaurant in months. Believe me I don't need a reason to eat there; but it was a good reminder.
One of my favorite dishes at Land Thai is Wok Cashew Nut with Chicken. So I ordered it again – along with their appetizer sampler (delicious BTW) – when we went back. It's changed over the years, but it's always reliable. And I love the chili plum sauce that's very similar to sautéed Korean chili pepper paste.
Last week, I was craving the Cashew Chicken. But I really didn't feel like leaving the comforts of my own home. Despite the hot weather that's been keeping me from the kitchen, I decided to make my version of the dish. I was prepared to make my sauce for this dish from scratch with some dried shrimp, fish sauce, red chili paste et al. But I found a Thai chili paste that met all of my needs. And it's certified gluten-free! Less work for me and gluten-free. I can't ask for more! If you have celiac disease, this is a pretty good option. It is also an acceptable substitute for Korean chili pepper paste in other recipes. Korean chili pepper paste often has ingredients with gluten in it.
One of the many reasons why I like stir-fry dishes is their versatility. I like versatility and variety. As my husband says, I like "choices." I like "sampling." If you don't have the vegetables that I used below, use what you have or like. Just remember to use comparable volume. If you use too much, the dish will taste too bland. Make sure to add/make more sauce if you decide to add more vegetables than the recipe calls for. The same goes for the sauce. You can make it as thick or thin as you'd like. I'm not too crazy about corn/potato starch in my sauces to make them thicker. I would rather have them a bit runny than add starch as a thickener. But of course, you can choose to use starch. The dish will be delicious either way.
Cashew Chicken with Thai Chili Plum Sauce Recipe
Makes 3-4 Servings
Ingredients
3 TB Thai roasted red chili paste
1/3 cup low-sodium chicken broth
2 – 3 tsp tamari (gluten-free soy sauce)
1 small RIPE plum, peeled and pitted
1 + 2 large garlic cloves
3/4 – 1 lb chicken (about 2 chicken breasts, thinly sliced)
1 medium carrot, peeled and cut into matchsticks
1/2 large red bell pepper, thinly sliced
1 1/2 cups snow peas or sugar snap peas
2 green onions, sliced thinly
1/2 cup toasted cashews
salt and pepper
canola oil for cooking
Optional
2 tsp cornstarch dissolved in 3 TB low-sodium chicken broth
Directions
Blend or process chili paste, 1/4 cup chicken broth, tamari, plum, and 1 garlic clove until smooth. Set aside.

Heat a large pan or wok on medium-high heat. Add enough oil to coat the bottom. Once heated, add chicken to the pan, along with a pinch of salt and pepper. Sauté until cooked through and lightly browned, about 3-5 minutes. Don't overcrowd the pan. Work in batches if necessary. Transfer to a plate and set aside.
In the same pan, add a drizzle of oil, 1/2 of minced garlic, and 1/2 of the chopped green onions (1/2 of white parts only) to the pan. Once the garlic becomes fragrant, add carrots. Sauté carrots for about a minute. Add red bell peppers to the carrots and sauté for another 2-3 minutes until the vegetables are tender crisp. Transfer to a plate. Set aside. Add a drizzle of oil and rest of garlic and green onions (white parts) to the pan. Once garlic becomes fragrant, add snow/sugar snap peas and sauté for 3-5 minutes until crisp tender.

Suggestion: I didn't use any this time, but onions (white or yellow, sliced) are great for this stir-fry.

Add back the chicken, carrots and bell peppers to the snow/sugar snap peas in the pan. Mix well. Add the sauce from step one. If you are using cornstarch, add the cornstarch/broth mixture to the pan. Mix well. Lower the heat. Allow the sauce to simmer and thicken for a minute or two. Remove from heat. Add green onions (green parts) and roasted/toasted cashews. Mix. Salt to taste if necessary. Serve hot with steamed brown rice or noodles.

Note: You can sauté all of the vegetables together for about 5 minutes. But they soften at different rates. And you run the risk of mushy vegetables unless you have a large enough pan to keep the temperature high/stable. It's easier to keep them tender crisp when you sauté them separately.