Is this a normal course of a person's evolution? Little by little over the past few years, I became a person I hardly recognize. I was at an event that was attended by a number of celebrities this Monday, including Justin Timberlake. A few years ago, a JT sighting would have had me giddy as a teenager. But do you know who I was most excited to spot at this event? Marcus Samuelsson. Just in case, you are saying huh? He is the chef/owner of Red Rooster in Harlem.
It's not just that. By the time 10:30pm rolled around, I was dreaming of kicking off my stilettos and slipping my tortured feet into my fluffy, bunny slippers. I just wanted to curl up on my sofa sipping wine while watching a marathon of Alias (Love J. J. Abrams). I asked my husband if we could head home about 2 songs into Mary J. Blige's performance. He looked at me like I was crazy. And as much as I would like to pretend that we had a particularly sexy or stimulating conversation in the backseat of a cab on our way home, we didn't. We talked about the tray of chicken legs we had in the fridge. What to do with it. Whether we should roast it or braise it. Oh my god! What's happened to you, woman?!
We were home by 11:30pm. My husband had a good chuckle about the days when I cursed last call and stayed out until the wee hour of the morning.
Just to state the obvious, I decided to roast the chicken legs. I made some sweet and sticky gochujang glaze to go with it. This has to be one of my favorite ways to prepare chicken legs. The flavors are so Korean: sweet, spicy, salty, and slightly vinegary while still being earthy. The flavors are strong, but they inexplicably go so well together. And these strong, yet harmonious favors, are probably the reason why some call Korean cuisine the naughty cousin of Japanese cuisine.
Cooking Korean cuisine is very much an imprecise art. Most families have different recipes and different preferences. And most Korean cooks don't measure anything with a modern measuring device. It's mostly done with the eye and instinct. I'm no different. When I make this, I usually just throw in a big spoonful of this, a sprinkle of that, and a dash of this. Needless to say, it's taken some discipline to measure everything out since starting this blog. This is all to say, don't be afraid to adjust the seasoning based on your personal preference. This is how I like mine.
I LOVE things spicy and slightly sweet. Prepare the sauce using the recipe first. Taste it. Adjust if necessary. But my friends, family, and I think this is just perfect.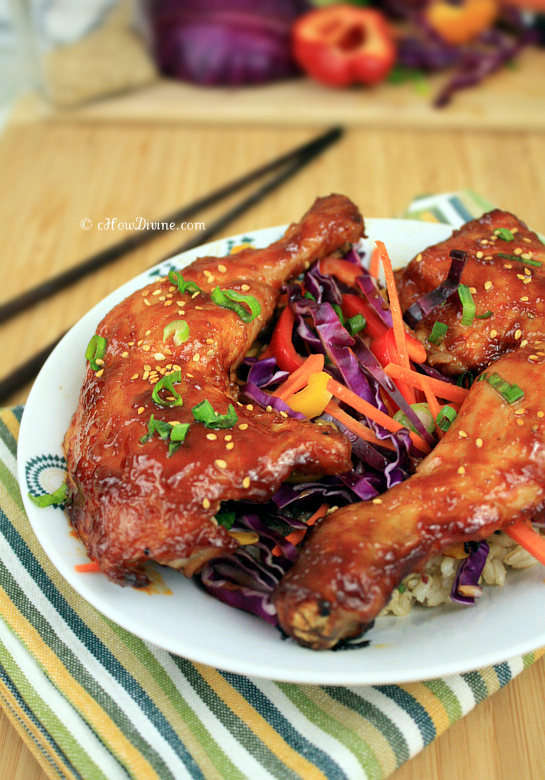 Continue Reading Korean Sticky, Sweet, and Spicy Chicken Legs . . .